There is a dilemma for researchers in terms of their choice of image processing programs.  The industry giants charge considerable amounts (matlab is exorbitant), what used to be high prices for CDs but now for online subscriptions.  Does the US taxpayer need to pay for these services – it doesn't seem quite right that we pay industry graphics prices to do science which benefits all of humanity (hopefully).
I have spent the better part of the year (not full time but avidly) trying to figure out who has the image processing program that is the easiest to use (i am talking here about real ease of use…. as I come to this field as a visual learner, without apologies, but find much lacking in the so called "intuitiveness" of many programs). I am also interested in the least expensive program as i dont want to feed the giants in the commercial world.  Another goal is to see whether all the bells and whistles that are touted in the new image processing programs really make a difference for scientists who are wanting to do some relatively simple things….  get rid of dirt, get rid of pixels, identify and enhance hard to see details, to put statistics ahead of guessing about shapes, peaks and the like.
I began 50 years ago with wet-darkroom prints, and the simplest tablet and stylus, haha i don't even remember the name of the setup but could look that up in a materials and methods published somewhere.  I used camera lucidas and pencil, then digital images.  The earliest processing was just a hand waving  (dodging and burning) then using those same terminologies, photoshop appears.
The earliest plates for publication were made on matboard with a drymount press and tissue.  The earliest program that i used for making images into figures was the first version of CorelDRAW (it was version 3) cracked on 11 pink 3.25 inch floppy discs.  These were mostly plots and line drawings.
50 years later, I still use CorelDRAW (x5 and 19), CorelDRAW Photopaint (x5 and 19) and still use Photoshop (6 and 2021), and have in the past year examined ImageJ, Gwyddion, and GIMP.  It is difficult not to be biased because CorelDRAW has had both raster and vector elements that in my way of thinking are more than adequate for both processing images, measuring features, and creating diagrams. CorelDRAW has been nicely compatible with Photoshop and Illustrator (though the reverse has never been as smooth). I have used images with 100 layers or more imported into CorelDRAW from Photoshop with ease.
So the purpose of this is to determine whether it is possible to do image processing with the same filters and measuring options in the open source software as is done with the high priced industry standards.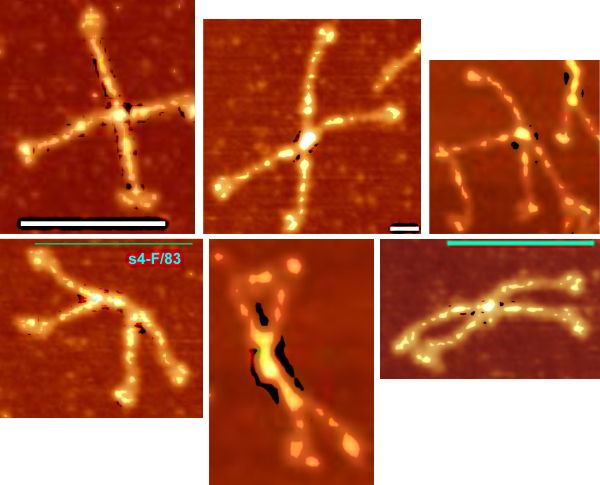 The test today is the unsharp mask filter in GIMP.  I do like the ease with which the sliders can be manipulated with instant preview updates….  i don't much like the actual "typing" from the number pad into the slider.  But using the surfactant protein D images (that I have used from published papers (in this case those shown here are some good and not so good images from Arroyo et al  (AFM of surfactant protein D).  Regardless of the original image quality, GIMP (open source image processing software) does a great job of masking.
Pay special attention to the small masked areas in the collagen like domain of each of the SP-D trimers….  yep…. 3 to 4 small peaks beside the glycosylation peak, especially nice in lower right image, and in that one and the lower left image… a tiny peak on the side of the N termini peaks is a new little peak (of which i am trying to determine the relative incidence).  Error bars are what i have used for measurments and are visible, most are 100nm but the tiny one is 20nm, and lower center has no error bar.