More desmosomal mitochondria tethering from hamster hepatocytes. This particular view has two mitochondria, and one shows a line of "dots" or fibers or fibrils in cross section.
This image is from a syrian hamster hepatocyte, and it is just a routine TEM but I noticed (while making my gallery collection of desmosomal-mitochondrial images) that one of the mitochondria showed the repeating dots (cross sections likely of intermediate filaments (maybe types I and II).
Upper image is unretouched micrograph and lower image has been pseudocolored. The latter has green for the two mitochondria that are tethered to the desmosome  at their outer mitochondria membrane (which appears rigid where intermediate filaments are present, and a distinct and definitely separated inner mitochondrial membrane). Along with the intermediate filaments are connections to the desmoplakin molecules the latter being part of the outer dense plaque of the desmosome. The yellow is the cytoplasmic area of the two adjacent cells including the intercellular space and the spot desmosome. Red dot is appoximately the size of a ribosome (27nm) which makes these filaments cut in cross section about 13.5nm in diameter (orange dots in a row) bottom electron micrograph. This hastily made measurement is not that far off from the reported 10nm intermediate filament made up of four monomer filament tetramers (haha… figure that out).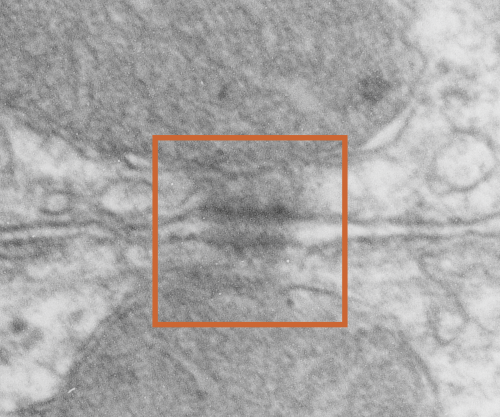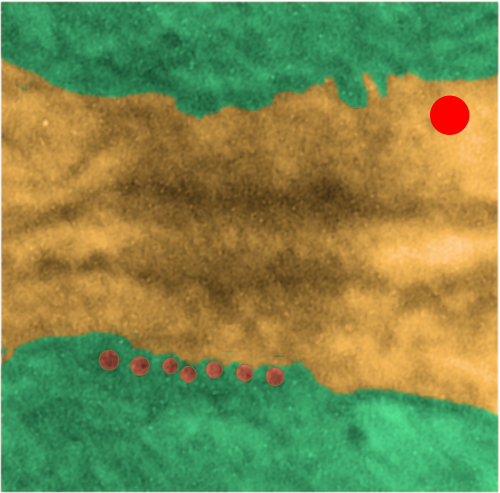 According to Thomason et al,  desomosomal proteins are as follows (slightly rearranged to make more sense to me): Desmosomes have five major component proteins, the DCs (desmosomal cadherins) DSG (desmoglein) and DSC (desmocollin) –DSC and DSG are the desmosomal adhesion molecules. Plakin family cytolinker DP (desmoplakin), and the arm (armadillo) proteins PG (plakoglobin) and PKP (plakophilin).  DP links the desmosomal plaque to the IF (intermediate filament) cytoskeleton, and PG and PKP are adaptor proteins that link between the adhesion molecules and DP.