I mentioned in the last post that there are some structural characteristics of surfactant protein D that are accepted as reasonable (which seem pretty likely to be the case). This includes the character of the carbohydrate-recognition domain, which has a structure that globular.  The yellow arrows show what kind of plot peaks will occur in a trace through the center of a hexamer (i.e. CRD+neck end of a hexamer to the opposite end where the neck+CRD of the second trimer are).
In the grayscale plots of SP-D it has become clear that there is an assortment of peaks that lie over the CRD and neck region that are accounted for by the position of the CRD as they hang from the neck domain, sometimes lying atop each other, or side by side, or over the neck region completely. One can anticipate that two peaks at the end of a plot of a trimer might represent one CRD domain lump and a peak of lesser height as the neck domain. Other times, there will be two peaks of similar height.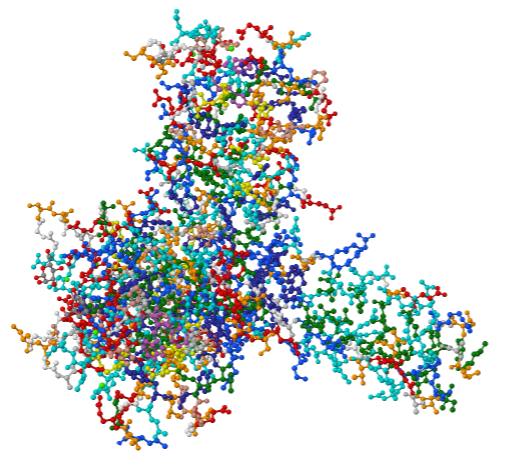 In these cases when I observe the plot superimposed on the image it is clear which peak is aligned with which domain. I have given the peaks separate colors, as I have sorted them out during this project.
You can check out many previous posts where I have sorted peaks by color/domain, both known peaks and those yet identified but not named (the colors have been pretty consistently assigned during this process). Image on the right is what RCSB shows for the CRD+neck end of a trimer of SP-D, and even in this ball and stick model (colored by amino acids), the density of the transparent image shows one that a grayscale plot could show brightness peaks (and does show them) where there are two CRD overlapping.
The image below is a dodecamer which has been image processed with a gaussian blur and a limitrange of 100-255.I have superimposed the transparent CRD+neck ball and stick models over the end of an image of a dodecamer (arroyo et al) (41 aka 45 by my number). Yellow arrows show where several peaks in one CRD region will be found.
While you are looking at this dodecamer notice the dark center where the N termini junction is, and that this molecule also has varying brightnesses of the glycosylation peaks (in particular compare the lower right hand trimer with the upper right and upper left hand trimers).