LUT plots of SP-D hexamer-arms from SP-D dodecamers. These, as mentioned many times, are from publications by Arroyo et al, and my purpose has not changed. Look for consistent peaks along the collagen like domain, and to sort out which processing algorithms are useful for analyzing AFM and TEM images.  At this point I think that image processing is cosmetic. It does make plots more pleasing but really doesn't change the peaks much. (I am not talking about the fantastic and artistic filters that something like CorelPhotopaint and Photoshop2021 can offer….  but the simple filters that remove scars, noise, pixelation but don't really change data.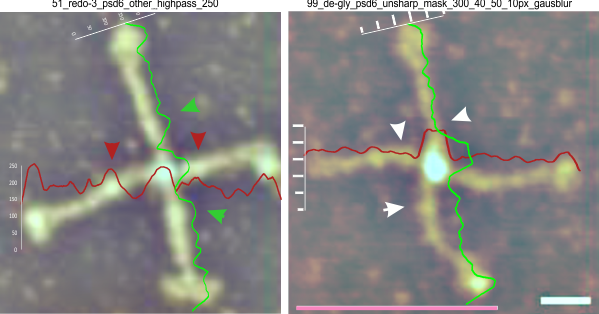 Plots and image below: two relatively matching dodecamers of SP-D found hunting through the sometimes crowded and pixelated image that are found in publications. the left hand image is purported to have a glycosylation peak (next to the brightest peak in the center of each hexamer (the N termini). I am not convinced that all arms of a dodecamer are glycosylated to the same extent, surely it is easy to see that peak height is not the same on the four trimeric arms.  The image on the right is a de-glycosylated SP-D that just happens to conform to the same X style as the image on the right.  THis is not the most typical form since angles between the trimers are most often acute and obtuse, not right angles as seen here…. but this is a good spread and can show the peaks along the arms nicely. Image on the righ has diminished peaks on the horizontal plot, but does have a peak on the vertical plot lower half (see white arrows where peaks should not occur in completely de-glycosylated SP-D but do seem to show some peak).  All four arms of the SP-D have differing size peaks (red and green arrows).
The filter used here is a "highpass" (a filter option present in the four programs that i have most often used to look at image processing as an aid to molecular modeling (CorelDRAW x5 with attending CorelDRAW photopaint, CorelDRAW19 and attending CorelDRAW Photopaint as well as Photoshop 6, and Photoshop 2021. These programs are touted to be about the best around.  I have used Gwyddion as well, but find the ease with which the former can be used is a time saver.  ImageJ is an easy program (and i have not found an equivalent in photoshop or CorelDRAW or Gwyddion) for making LUT plots.
Red plots (most horizontal arms, green plots, more vertical arms — these formations are by chance). At least this pair would suggest that level of glycosylation is graduated, and maybe not present through out a dodecamer the same on each arm.
Just in general…. looks like a minimum (including the glycosylation peak) of four bright areas occur along the collagen like domain.  This is so consistent that I am hopeful to get statistics to verify this.