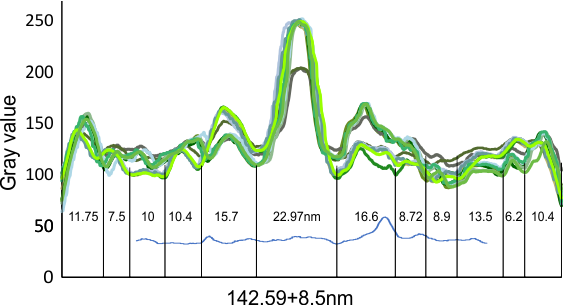 Using CorelDRAW19 various processing algorithms have been applied to one AFM image of surfactant protein D. This image was derived from Arroyo et al, and is among dozens of images from various authors that I am using to test the validity and efficacy of such image processing. The list of programs used for this particular image (then vary from processing programs, e.g. photoshop, gimp, gwiddion, imageJ etc. because of the menu options in each program) and from free and proprietary image processing libraries that may or not be available to software developers. While it has taken months, the comparison is something that I needed to do since I have both old and new versions of the industry standards (CorelPhotoPaint, and Draw, and Photoshop) and it was important to see whether there were changes in image processing algorithms that caused significant differences in gray scale (y axis) for surfactant protein D images.
the list for this composite (plot) overlay is: gaussian blur (5px); gaussian blur (5px) and high pass 40%-10 px radius; gaussian blur (5px) unsharpmask (300%-  20 px radius- threshold 50; lowpass 100% 10 px radius; maximum 50% 10 px radius; median 5 px radius; minimum 50% 10 px radius; smartblur 50. Each of the resulting image were measured using ImageJ. Plots were conformed to the mean arm length of all processing and measuring for this single image.  A single background measure (each background was taken at the same time as the measurements, and in the same location) is shown around 50 on the gray scale.
Each plot is a different color and each arm (meaning CRD to CRD in a hexamer) were plotted separately and are shown separately  thus, 16 individual plots and 16 colors. Approximate width at the valley of the plots is given in nm.